Your Vote Counts!! VOTE!!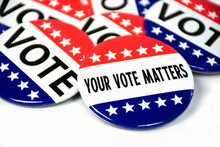 Vote in the JUNE Primary
AND
the November General Election!
"Let us not seek the Republican answer or the Democratic answer
but the right answer." – President John F. Kennedy
THE 2017 VIRGINIA HOUSE OF DELEGATES ELECTION
On Tuesday, December 19, 2017, Democrat Shelly Simonds won a seat in the Virginia House of Delegates by a single vote in a narrow-as-narrow-can-get victory. Though a court quickly tossed out Simonds's victory, and she eventually ended up conceding to her Republican opponent.